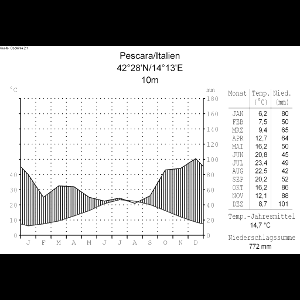 Events in Pescara
In this page you can find a not - comprehensive list of events taking place in Pescara
Religious events in Pescara
Festa Di S.andrea Pescatore(Of S.andrea Fisherman's Feast), in the month of July. More information www.comune.vastogirardi.is.it/.
Festival in Pescara
Festival Delle Letterature Di Pescara(Festival Of Literature Di Pescara), in the month of November. More information info@festivaldelleletterature.com.
Solstizio - Equinozio Aurum Festival(Solstice - Aurum Equinox Festival), in the month of June. More information www.facebook.com/aurumlafabbricadelleidee.
Town festivities and fairs in Pescara
Fiera Di Primavera(Spring Fair), in the month of May. More information www.quartierelafilanda.it/.
Click here to find out the weekly market day in Pescara
Add other events taking place in Pescara. Contact us @Happings.